Dedicated Server Hosting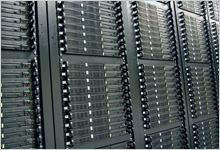 If you are looking for business class and enterprise quality dedicated server hosting solutions, then look no further. We offer both fully managed and semi-managed dedicated servers as per your web hosting requirements. Our dedicated network engineers in USA from India makes us to run the servers with an uptime of 99.9% - 100%
We offer Linux & Windows dedicated servers to suite your budget on best networks with all required software. We fully manage your servers and ensure its trouble free operation.
With our fully managed dedicated hosting servers just be relaxed as we regularly update & optimize your servers, take backup, monitor server loads, monitor traffic graphically, daily log analysis, secure your servers by periodic security audit etc. all leading to happy hosting experience.
You need to host multiple files, multimedia contents, websites or database intensive SQL Server applications, we have a Dedicated Server to match all your needs. All of our Managed Dedicated Servers are setup using high quality server hardware. All Servers are 1U Rack Mounted Servers, there are no desktop components used in our servers. We offers extensive solutions for both Linux and Windows Managed Dedicated Servers.
All fully managed servers are delivered to you within 3 - 24 hrs after your order confirmation.
Our dedicated servers are secured, fully configured and customized for your specific business needs which ensures you to utilize the server to your production environment in no time.

Our Dedicated Hosting Servers Offer,
World-class data centre in USA with redundant fiber-optic lines monitored 24 x 7 x 365 

Hardware starts with Pentium Class Processors, SATA II HDD & DDR II ECC RAM
Software starts with Linux, Windows Server 2003 / 2008, cPanel, Plesk, ASP, ASP.NET, MSSQL Server, FrontPage Extensions, Tomcat Java, MySQL, PHP & Perl and extend to the most modern hardware & software available today

Guaranteed 99.9% - 100% uptime on best premium networks

Free OS reloads & OS switching

Server maintained by certified server administrators from Mars Software's UK location & India

Private network with unlimited bandwidth to inter-connect servers in our data centre  

Complete anonymous & transparent to your clients

Friendly after sale real 24 x 7 x 365 support

Full Tomcat Java Support on both Linux & Windows

Basic to Advanced solutions for you Web 2.0 & SaaS requirements

Server Solutions to support Oracle database hosting

Regular technology updates keep your server upto date with the world

All types of servers available to suite your requirements
 For a dedicated server quote, contact sales@marssoftware.com